Ok...so technically I didn't start my 10 Days of Giving yesterday as planned. Have you ever had one of those days that is busy from rising to sleeping and yet you didn't accomplish even one thing on the "to do" list for the day? Yep...that was yesterday - so I am starting the 10 Days of Giving today, December 7.
For today only, purchase a Posh Metal Christmas Ornament with an image of your choice from a previous session for only $20! The ornament measures 4"x3" and will look as shown with your image (image must have been ordered previously in some form - print, book, digital image, etc)

The back of the ornament will have your family name or the name of your choice.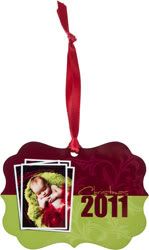 Haven't had a session with me yet? No problem! Schedule a session for 2012 and you can receive the ornament with your session for FREE!
Wait you say...that isn't fair to those of us who had sessions in 2011. No problem! Just schedule a session with me in 2012 and you can get next year's ornament free!
Please see the original posting for details and exclusions.
See our 2012 session posting for information on available sessions.
Call me at 214-676-2622 or e-mail me at aimee@aimeelouisephotography.com to redeem today's special gift. At midnight...it will be gone!