The fall season is my busiest time of year with families booking sessions for Christmas cards. And yet...there are so many who don't. It gets me to thinking every year and I want to share a story with you.
When I was 22, my father died of cancer. There isn't a day that has gone by over the last 20 years that I don't think of him at least once. My parents left me with NO family pictures. NONE!. I did have one taken with my parents when I was 14 years old, had braces, a horrible haircut, and just looked gawky. I love that picture because it is the only one with my parents but I hate it because I looked soooo bad. However, we have no pictures with my brother and sister in them with our parents. Why did they do that? They just didn't think they had the money and who knew he would die at age 56?
Many people think they are ok because they take tons of pictures themselves. I have to tell you that snapshots are not enough. You can't hang them on the wall and usually you don't get your entire family in a snap shot. If you do, the quality is not great and tends to deteriorate through the years.
I didn't write this blog to depress you, but I do want you to think. Family pictures aren't a luxury. They are a MUST for your children. It isn't about "us" as parents....it is about our kids. They may not care today about looking at those pictures, but believe me in 20 years, they will care. Especially if the unthinkable happens and one of their parents is no longer there to look at the pictures with them.
Why do we not get pictures? I hear excuses all the time...
"I need to lose weight first"
"With this economy we don't have the money"
"My husband hates taking pictures"
"With sports we are just too busy"
"Next year for sure...."
I want to address these very quickly.
First, your kids could care less how much you weigh. When they look back on your family pictures, I can guarantee you they will not say "wow I wish mom had lost 20 pounds for that picture!" They will just be thankful to have pictures of you from that time. As mom, you are beautiful no matter what to your kids.
I have tried to help you by creating a solution for the other excuses. I offer mini sessions that take only 15-20 minutes. The cost is $55 and includes an 8x10. Even dad can sit for 10 minutes to take a few pictures. For just $55 you can walk away with a print to cherish forever. If you simply can't afford more, that is ok. I do offer payment plans if you want more but can't get them all at once.
I want you to understand that I am not writing this to get you to book pictures with me. If this blog inspires you to get family pictures and you go to another photographer, I am happy that you just protected your memories with someone.
If you would like me to take your pictures this year (and I would sure love it if you would :-)), I am offering several sets of mini session that should appeal to everyone.
Costs: $55 - includes an 8x10 and an online gallery of 12-15 images
1. Vintage Couch Sessions
Date: Saturday, October 23
Available Times: (Strikethroughs are already taken)
4:50
5:10
5:30
6:30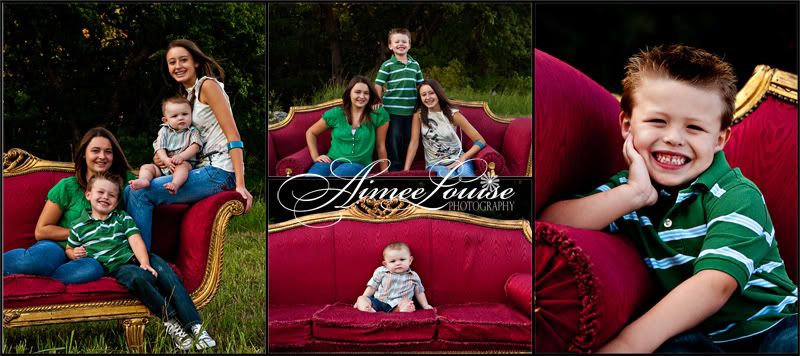 2. Nature-scape Family Sessions
Date: Saturday, October 30
Available Times:
8:00
8:30
9:00
9:20
9:40
10:00
10:20
10:40
11:00
3. Urban Family Sessions
Location: Downtown Prosper
3:30
3:50
4:10
4:30
4:50
5:10
4: Back to School Mini Sessions (Kids Only)
Date: Thursday, October 28
Cost:(for this session only): $50 (includes:1-8x10, 2-5x7's, 8 Wallets)
Available Times:
5:00
5:15
5:30
5:45
6:00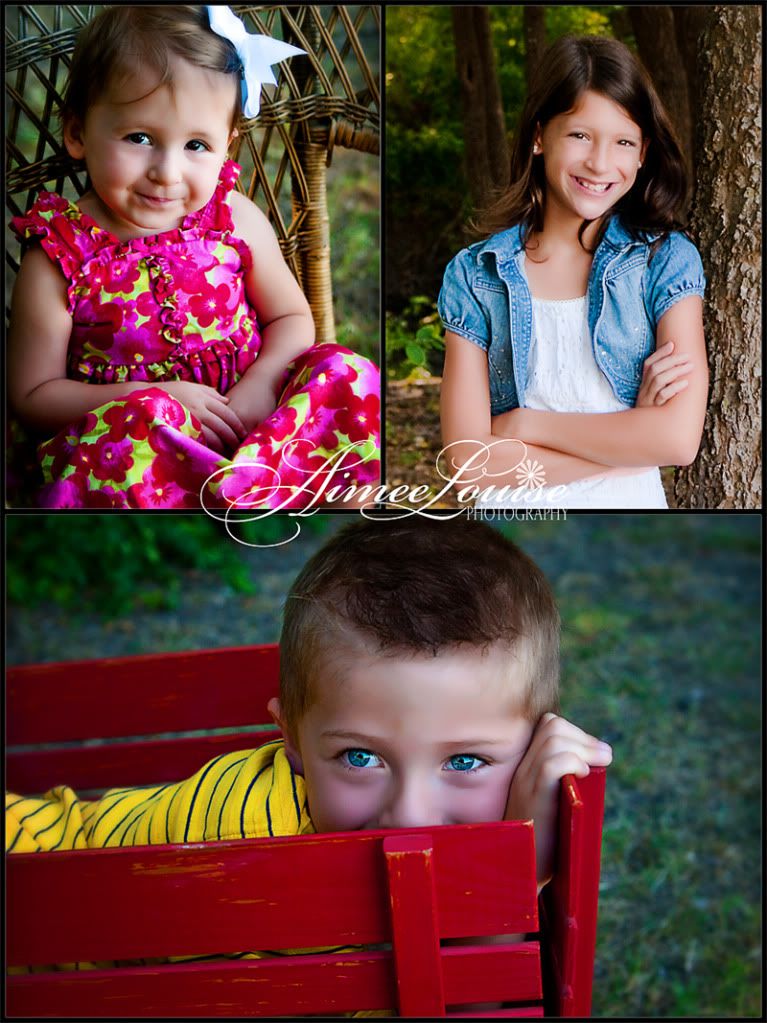 Don't let another year go by without protecting your memories! If you would like to schedule a session, you can contact me through my website: http://www.aimeelouisephotography.com/. If you live outside of the Dallas area and need a recommendation for a photographer, contact me and I will be happy to help you!
Have a blessed fall and let's get some family pictures!
Aimee